This Pumpkin Bread recipe is amazingly moist, gluten-free, and addicting to eat. The secret behind what makes this recipe so delicious is the creamy pumpkin butter. Enjoy a slice with tea, eat it for breakfast, or simply make it for your next holiday gathering.
On another note, chilly weather is creeping in, you guys! And kabak (pumpkin) is floating all around the pazar (the Turkish bazaar). Usually, in Turkey, one very traditional way to eat pumpkin is as a dessert called Kabak Tatlisi. This dessert is made of large chunks of pumpkin soaked overnight in sugar, then baked in a sugary juice. As it cools, it becomes candy-like.
However, my friends, I had to show my neighbors that there was more to pumpkin than Kabak Tatlisi!
Behold! I knocked on their doors and gave them slices of this pumpkin bread and they loved it! YAY!
My Strategy for Making Moist Gluten-Free Pumpkin Bread
My strategy for making the best-ever gluten-free pumpkin bread is to make sure that there will be no grittiness to the loaf. For those who do not know, gluten-free baking is no walk through the park. It takes precision and a little food science.
I chose two main flours for this pumpkin bread recipe: rice flour and almond flour. Not only did I choose these two flours for their unique structures—but for their accessibility.
Rice flour can be tricky because it can be the one to add the grit. To overcome this problem, add the pumpkin butter with the milk of your choice, and the rice flour in a saucepan over low heat. Cook it for about 8 minutes, stirring continuously.
When the starch granules are heated in the presence of liquid, they begin to swell, resulting in a viscous texture and no grittiness.
Almond flour will add a nice nutty flavor and will help aid in structure.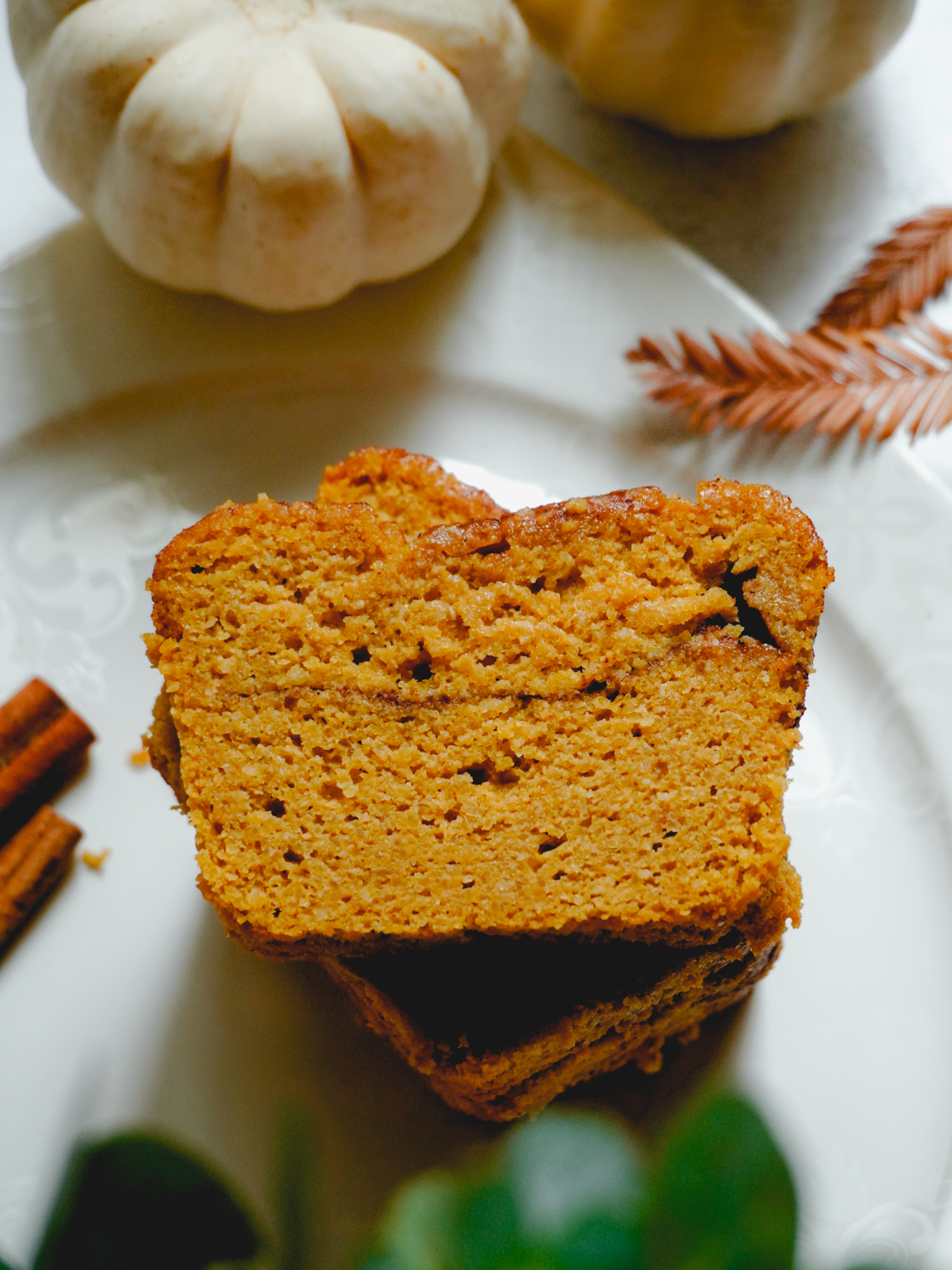 Pumpkin Bread Two Ways
There are two ways to add pizzazz to your pumpkin bread.
Sprinkle cinnamon + sugar on top of the loaf before baking or pour half of the batter to the loaf pan, sprinkle in the cinnamon + sugar then top with the remaining bater—followed by an extra dusting of cinnamon + sugar on top.
Add chopped walnuts or pecans inside and on top for that perfect crunch!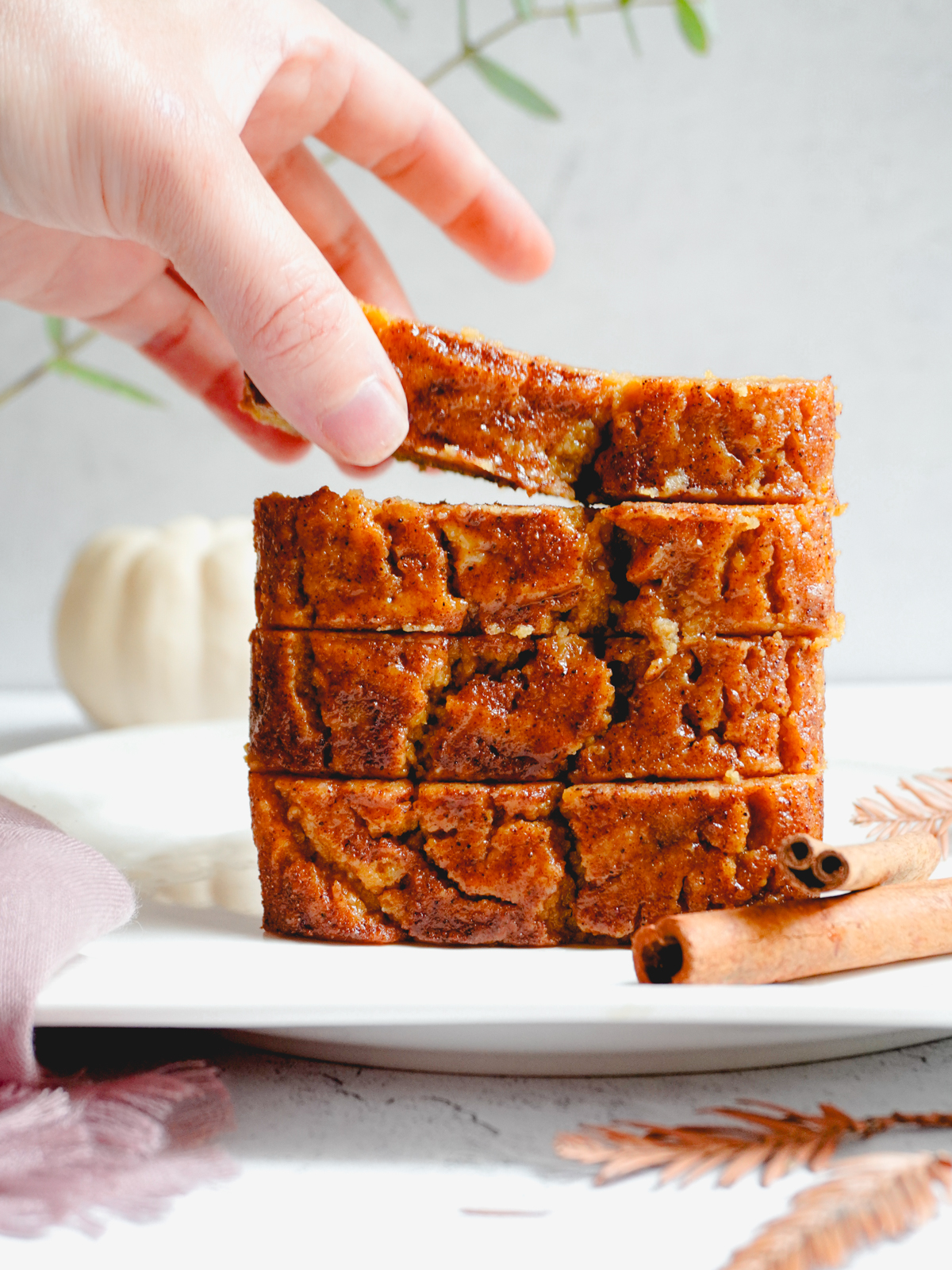 I made this pumpkin bread using this pumpkin butter recipe.
Looking for More Delicious Recipes? Try These!
Need More Living Inspiration? Read These Articles.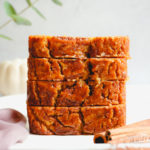 Print Recipe
Pumpkin Bread Recipe (Moist + Gluten-Free)
This Pumpkin Bread recipe is amazingly moist, gluten-free, and addicting to eat. The secret behind what makes this recipe so delicious is the creamy pumpkin butter.
Ingredients
1

cup

pumpkin puree

homemade or from a can

2

cups

milk of choice

1/2

cup

sugar

1

cup

rice flour

3

large

eggs

1

cup

almond flour

1

tsp

vanilla extract

1/4

tsp

sea salt

1/2

tsp

xanthan gum
Cinnamon + Sugar
1/4

cup

sugar

1

tbsp

cinnamon
Instructions
Preheat the oven to 150°C or 300°F

In a small saucepan over low heat, add the pumpkin puree, milk of choice, sugar, and rice flour. Use a whisk to stir continuously for 8 minutes. When ready, turn off the heat and set the saucepan aside.

In a mixing bowl, beat 3 eggs. Next, add in the almond flour, vanilla extract, sea salt, xanthan gum. Mix until well combined.

Then, temper the ingredients by adding 1/2 a cup at a time of the almond flour mixture to the warm pumpkin mixture. Stir and mix to incorporate, then continue the process until both mixtures become one batter.

When ready, grease a lof pan, then pour in half of the batter followed by half of the cinnamon + sugar. Pour in the remaining batter right on top. Sprinkle additional cinnamon + sugar on top then transfer to a preheated oven set at 150°C (300° F) on the lower rack and bake for 50 minutes or until a toothpick inserted comes out clean.

Finally, enjoy once fully cooled.
Notes
Any leftovers? Wrap it in saran wrap or cover the baking dish with wrap or foil then place it into the fridge for up to 3 days.