Discover the daily gratitude routine that transforms the day of Şebnem Erçelik, a designer who turned a hobby into a passion for jewelry, and a knitter who turned a passion into therapy and unique pieces that she makes with love and vibrance.
Welcome to ARE Living's ongoing interview series, where we get to share how you ARE living!
One thing that brings me serenity
The best start to my day is when I am able to sit with a cup of coffee and do absolutely nothing, only smell the coffee. Likewise, on sunny days I take in the rays of sun coming in from the window. As a result, I get to enjoy and be thankful for those few minutes of quietness.
Sometimes plastic is better
At home, it's my husband with the green thumb. For instance, I'm so bad that I can even kill a plastic plant! That being said, I have been a bit lucky with orchids. If they like their spot, then I find that the rest is easy.
Delighted by the ringtone
I am delighted when loved ones call (not messages)! It always warms my heart to hear their voices.
Everything at the right time
Nourishment is about wholeness of the mind, heart and soul.

Şebnem Erçelik
I believe that everything is good for you as long as you eat it in the right quantity, at the right time, and with the right motive.
Improv Cooking
I'm really into mixing up vegetables in the wok and using anything that's in the fridge. Therefore, I love to create meals off the top of my head instead of following recipes.
Recipes Steeped in Love
This morning I made my beloved mom's famous-to-me cheese puffs. I have tons of cookbooks, but it seems that I turn to them less and less. As a result, I have my own little book of favorite recipes where I include a mixture of anything from cheese puffs to my favorite köfte — Turkish meatballs — recipe.
The daily gratitude routine that transforms my day
Every day I set aside a few minutes to be thankful.

Şebnem Erçelik
During this time, I don't think of the things I can't have or afford to buy. First, I express my gratitude for the things that I do have, and most of them are things that can't be bought… health, a funny husband, a son and daughter-in-law that I adore, and a family that I am so close with. In other words, during this time I focus on thankfulness that every day I can learn something new, create a new design for jewelry, or a new pattern to knit.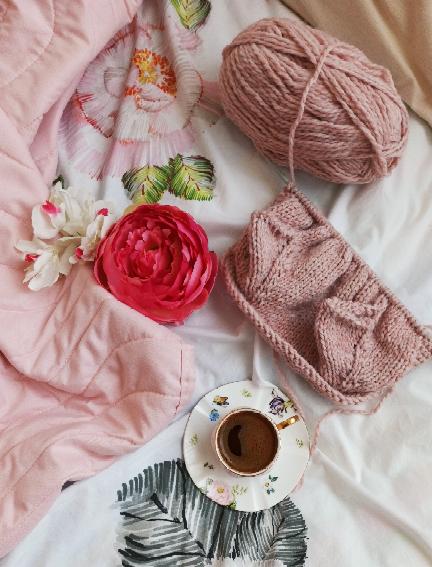 Literary Footsteps
I love walking and listening to audiobooks while walking. We live on the seashore, so as a result, it's the perfect place to take our dog out.
Daily gratitude routine in cups of coffee
I am a coffee gal all the way. In the morning, I always drink a milky Nescafe, followed by a double Turkish coffee in the afternoons. So if it isn't obvious, I love coffee! Sorry tea lovers!
The result of a daily gratitude routine
In a nutshell, the one word that would describe me is happy!
Şebnem Erçelik designs jewelry made of natural stones and with vibrant colors, and creates irresistibly soft blankets, hats, scarfs and purses. To see more of Sebnem's stunning work, check out her Shibu jewelry line @shibustyle and her Kuzzi Knit designs @kuzziknit. Email her: sebnemercelik@gmail.com