Homey White Bean Stew with Mini Kofte— is the family's go-to dinner served with buttery rice or fluffy quinoa. Needless to say, any leftovers taste even better the next day.
Around autumn, here in Turkey, there are so many fresh beans ( in their original pod) all-around markets, and pazaars (the Turkish bazaar). There's fresh cranberry bean, cannellini, and thick green beans. I get so excited to eat them!
When eaten fresh, Cannellini Beans are larger, plumper, and really tender once cooked. Furthermore, because they are fresh, there is no need to soak them in water overnight and they cook up fork-tender in about 30 minutes. Now let's talk about these super cute mini koftes.
Mini Kofte
These mini koftes can be made in many different ways. Here are a few suggestions:
Buy preseasoned ground meat. There's absolutely nothing wrong with buying ready-made, preseasoned ground meat. Not only will this save time, but it can also save you money by not purchasing the seasoning you may not already have on hand. Feel free to use ground turkey, chicken, or beef to add rich umami flavor to the dish.
Make it gluten-free. When necessary, make sure that the purchased seasoned meat does not contain any gluten for those with intolerances.
Make your own seasoned meat. If you want to control what goes in your white bean stew seasoning your own mini kofte might be the best option.
How to Season Kofte (gluten-free)
This is how I typically season kofte. Per one pound of meat add:
2 tsp paprika (smoked paprika if you can get your hands on it)
1 tbsp onion powder, cumin, and coriander
4 garlic cloves, minced
salt and pepper ( as desired)
2 tbsp tomato paste
Adding fresh herbs like mint or parsley would also be delightful. If so, add around 1/4 cup, chopped.
Looking for More Cooking Inspriation Try These!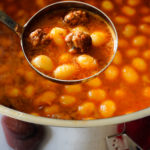 Print Recipe
Homey White Bean Stew with Mini Kofte
Ingredients
Drizzle of olive oil to coat the bottom of the pot

1/2

pound

ground meat

formed into really small "meatballs"

1

medium

onion, finely chopped

salt and pepper

1

tsp

oregano

1/4

cup

tomato paste

4

cups

fresh white beans

or 2 (15-ounce) cans cannellini beans 

1

pint (473 ml or 2 cups)

veggie broth

or broth of choice.

2

cups

water
Instructions
Make the Kofte
If you are using preseasoned ground meat, simply form the meat into reallly small balls.

If you are not using preseasoned ground meat, simply add 1 tsp paprika (smoked paprika if you can get your hands on it)1/2 tbsp onion powder 1/2 tbsp cumin, 1/2 tbsp coriander, 4 garlic cloves, minced, salt, and pepper ( as desired) and 1 tbsp tomato paste. Mix with your hands until well incorporated. Form into very small kofte "meatballs". Adding fresh herbs, optional.
Build the Stew
Use a large pot with a lid. Heat the pot over a medium flame. Once heated, drizzle in the olive oil. Make sure that the bottom of the pot is well-coated with the oil.

Next, drop each mini kofte "meatball" one by one into the pot. Once placed, do not move around. After 2-3 minutes, lift one kofte to see if it is golden. If so, flip all of the balls. They should be stable enough at the point to gently fry around. Fry until slightly golden. Remove kofte from pot then set aside.

When ready, add the onion straight into the same pot. Season with salt and pepper. Sautee until translucent. Then, add the oregano and tomato paste—stir fry for about 30 seconds.

Finally, add the kofte back into the pot, along with the white beans, broth, and water. Cover with a lid and cook on low heat for about 30 minutes, stirring occasionally to ensure nothing gets stuck and burned on the bottom.

Serve right away with buttery rice, fluffy quinoa, or crusty artisanal bread.