These Roasted Potatoes with Mediterranean Spices are fork-tender yet have a crispy exterior.
Furthermore, I added the perfect ingredient that couldn't be more compatible with these potatoes—pearl onions! They're small, soft, and sweet.
The pearl onions are definitely something special, but let's talk about these Mediterranian spices. There's oregano, paprika, mint, cumin, and one nontraditional spice yet is taking storm over here in the east and that's curry powder.
Here are the Ingredients You Need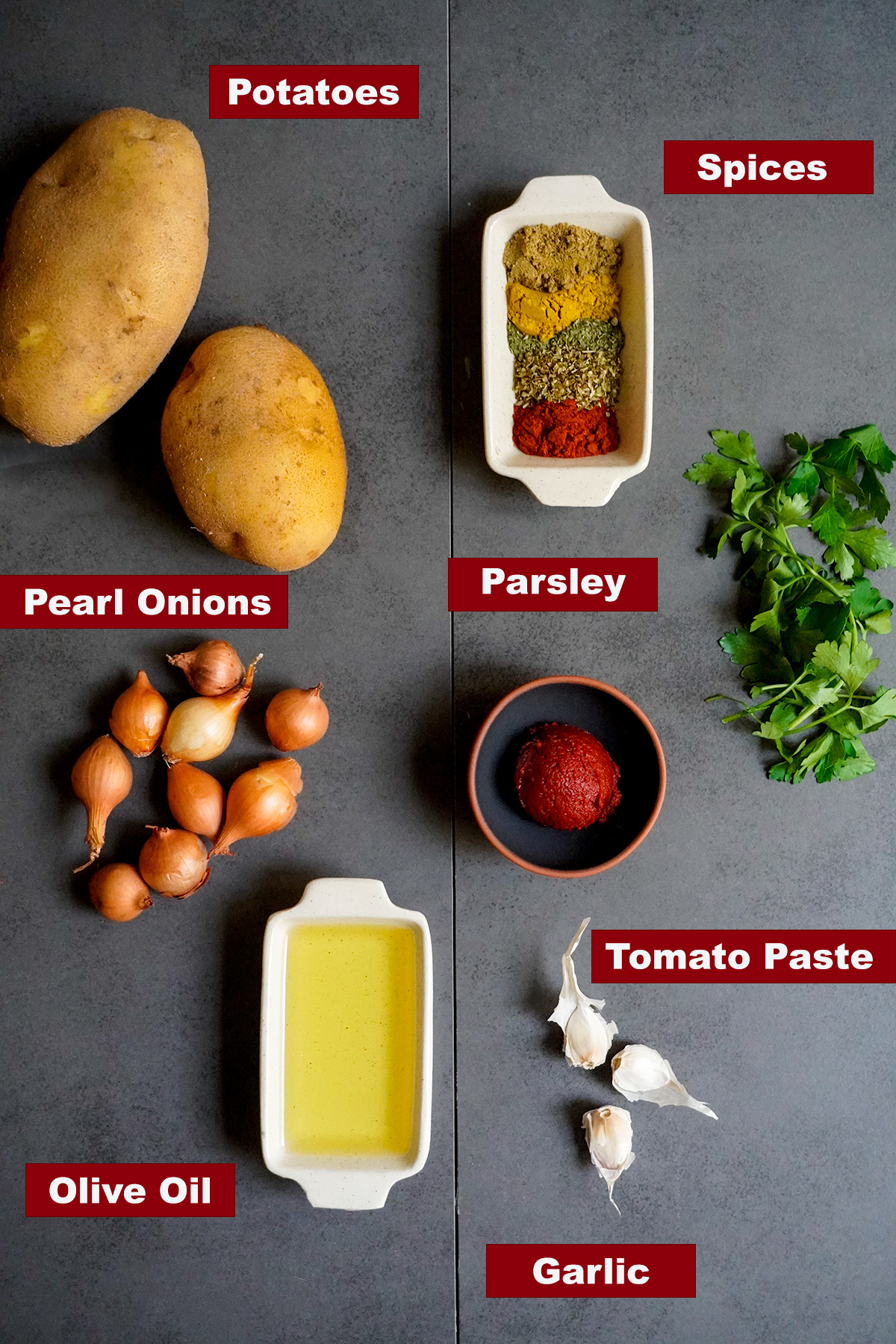 The holiday season is near and sides are a definite must.
Actually, I am hosting a Friendsgiving here in Turkey for the first time and I couldn't be more excited about it. The stressful part? What to cook…
The fun part? Figuring it all out in the end and finally getting to eat and share laughs with special friends.
I may have to make these roasted potatoes as one of the sides. They are so amazing.
What I typically do is grab a small mixing bowl and add the olive oil, chopped garlic, along with all of the spices, salt, and pepper, and mix well—crushing and pressing the garlic to squeeze out its flavor and aroma until a thick paste-like mixture is a result.
Dollop the paste onto the potatoes and massage every nook and cranny with your hands until evenly distributed. Rub those onions too!
Looking for More Cooking Inspriation Try These!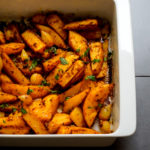 Print Recipe
Roasted Potatoes with Mediterranean Spices
Ingredients
2-3

pounds

Russet or Yukon gold potatoes, peeled and cut into wedges

1/4

cup

olive oil

1

tbsp

tomato paste

1

tsp

paprika, mint, oregano, and cumin

1/2

tsp

curry powder

3

cloves

garlic, finely chopped

1

tsp

sea salt

crushed black pepper to taste

chopped parsley for garnish (optional)
Instructions
Preheat the oven to 350° F

Add the peeled and cut wedges into a mixing bowl, set aside.

In a separate small mixing bowl, add the olive oil, tomato paste, spices, garlic, salt, and pepper. Mix until thick red paste forms.

Then, add the red paste to the potatoes. Toss and massage the potatoes until fully coated with the paste. Make sure to cover the pearl onions as well.

Transfer the seasoned potatoes to a baking dish and bake uncovered at 350°F for 50 minutes on the lower rack of the oven. You'll know it's ready when able to pierce with a fork. Enjoy while hot.