This Light Chicken Leg Soup with Cinnamon will warm your soul…
A mirepoix base with spices like smokey paprika and earthy oregano—slow-cooked with meaty chicken legs simmered in a light broth.
By no means is this the kind of soup to binge on if you're overly hungry. This is the kind of meal when you're craving something light yet flavor-packed. It's absolutely perfect to make for loved ones when they are feeling under the weather, hungover, or in need of good, light, brothy soup.
Here's what you need to make this soul-warming Light Chicken Leg Soup
As mentioned before, this chicken soup has a mirepoix base consisting of onions, carrots, and celery. There aren't too many spices as this dish is to remain nice and light. Paprika adds a smokey hint and the oregano is quite earthy. Who doesn't like garlic? And the fresh rosemary aids in flavor and in aromatics. Last but not, least a small cinnamon stick because why not?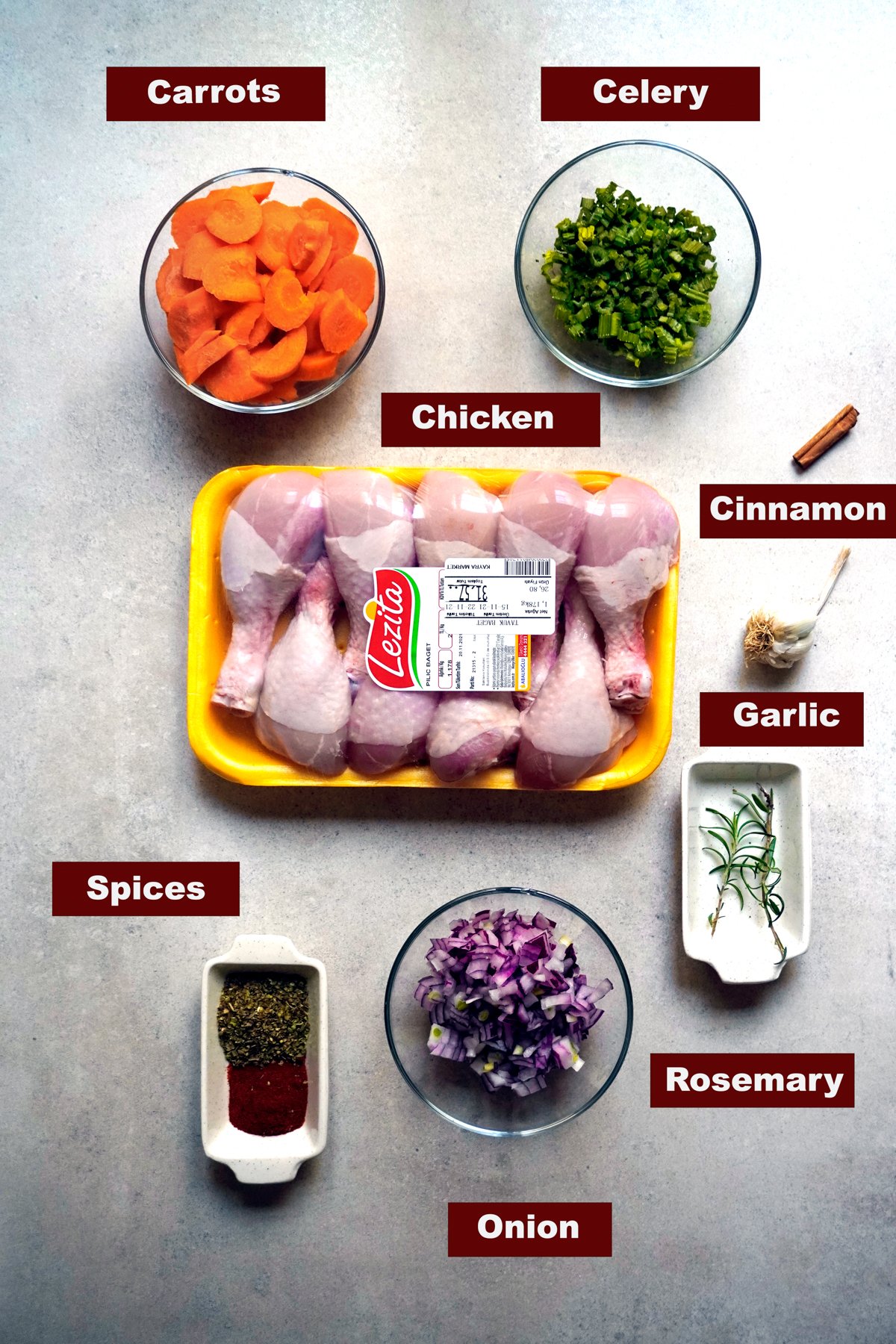 By the way, if you're afraid to add a stick of cinnamon to your pot of chicken soup, don't be. Only half a measly cinnamon stick is used —simmered for only 20 minutes, there is a subtle flavor and aroma of cinnamon without it being too overwhelming. It adds something special, something different…
So, try something new.
Though this chicken soup recipe is meant to be light. Feel free to add any of these ingredients:
A small thumb of ginger or turmeric.
Fresh diced jalapeno pepper
Cilantro
Miso paste
I would shy away from cruciferous vegetables—as they can be over-powering.
Looking for More Cooking Inspriation Try These!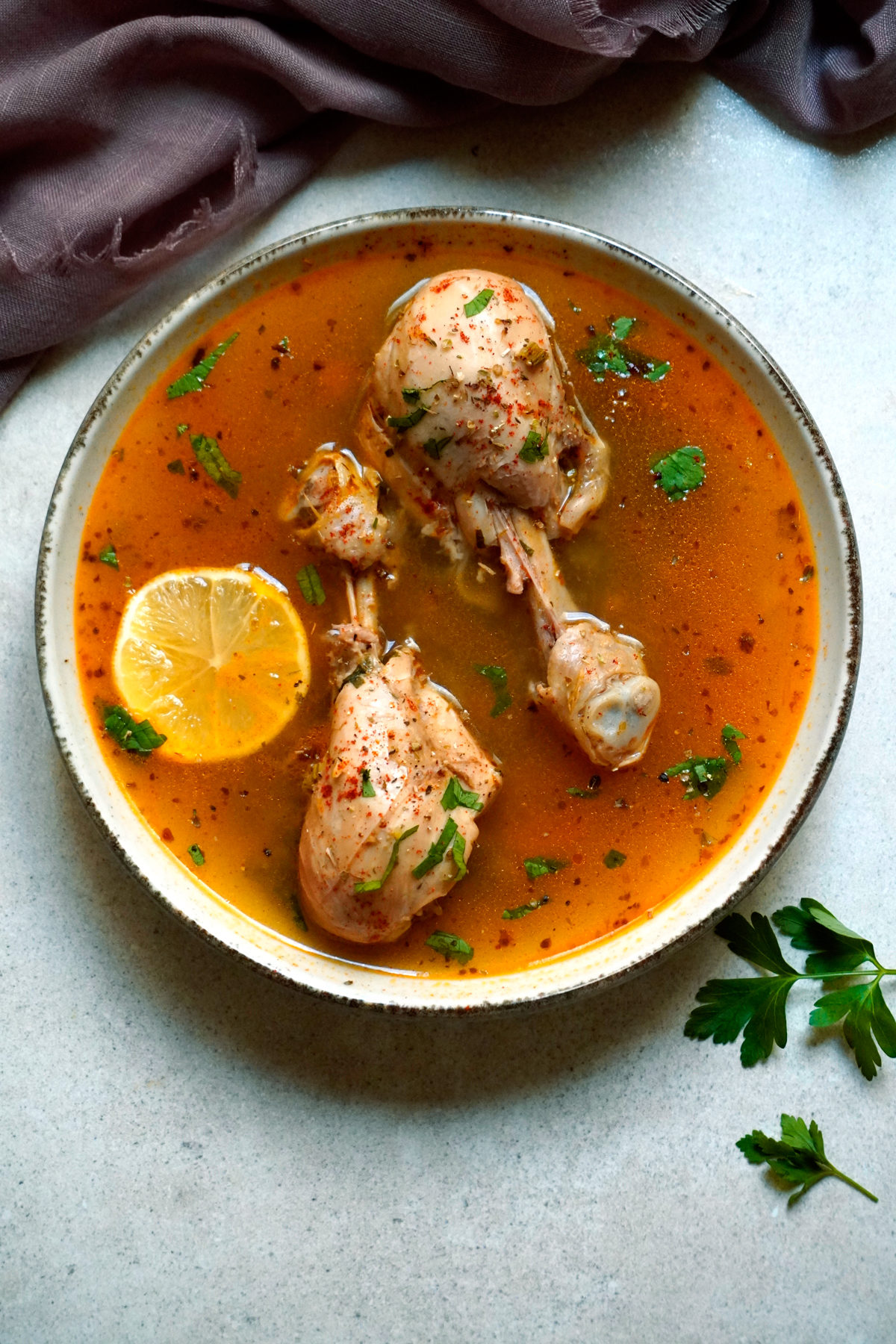 Print Recipe
Light Chicken Leg Soup Recipe with Cinnamon
A mirepoix base with spices like smokey paprika and earthy oregano—slow-cooked with meaty chicken legs simmered in a light broth.
Ingredients
drizzle of olive oil

1

small

onion, finely chopped

1/3

cup

diced celery

1

cup

thin-sliced carrots

feel free to make the carrots small or large

4

cloves

garlic, chopped

salt and pepper, to taste

used multiple times along the way

2

small

sprigs of rosemary, needlelike leaves removed and chopped

1

tbsp

paprika

1/2

tbsp

oregano

8-9

chicken legs, skin removed

64

oz

broth of choice
Instructions
Heat a large pot (with a lid) over medium heat. Drizzle in olive oil and add the onion, celery, carrot, and garlic to the pot. Season with salt and pepper to taste. Sautee until the onion have softened.

When ready, add the spices and rosemary. Stir-fry for about 30 seconds. Then add the broth and the skinless chicken legs. Cover the pot with a lid and cook on low heat for about 50 minutes to an hour—stirring occasionally so that nothing gets stuck and burned on the bottom. You'll know it's ready once the meat of the chicken is fall-off-the-bone tender. Adjust the seasoning by adding salt and pepper when necessary.

To serve, grab your favorite steep bowl and ladle in it the brothy base with pieces of carrot and two drumsticks. Serve with buttery rice, crusty artisanal bread, or slowly sip alone as is.