What bookworm doesn't know the delight in adding a new book to their collection? Trouble is, the list can grow too long on virtual and real bookshelves. Here we've got some tips on how to love your TBR pile.
Reignite the spark with your TBR pile
First, I like to take some time and sit with my unread books. Ideally, I do this on the floor with them spread out all around me. I pick up each book one by one and hold it (this is a trick Marie Kondo has perfected in The Life-Changing Magic of Tidying Up). If that is not possible, I pull up my virtual collection and look at the covers. Second, I ask myself, why did I add it to my collection? Is it the newest book by my favorite author? Is it a topic I'm interested in but haven't gotten around to researching? Most importantly, I ask myself does it excite me? If so, I put it in a Keep Pile and organize by subject. If not, I don't despair. I pass it along to a friend or donate to a library.
When I moved last year, I donated books to The Little Library That Could. Another option is to sell them, and there are many groups online for book swaps or sales. Letting go of unread books that you'll never read brings in fresh energy and a renewed desire to read the ones you do have. 
When you want to love your TBR pile, but can't
The piles, they're taking over. I get it. They're on the floor, on the shelves, next to the bed, and piled up next to the couch. Books (and their respective piles) are a reflection of my state of mind. If they are tidy and organized, most of the time, so am I. So when I feel frustration or guilt by all I have to read, I go back to tip number one. If that doesn't work, it is okay to make peace with the pile, like this one family did. 
Books as visual art
Creative people often want to be surrounded by books and objects that they love. Sometimes even paging through a book can be illuminating. And perhaps, all you need from that book is a few paragraphs or chapters that hit home, and you can pass it along when you've read those sections. Or, organize your shelves by color. The next time you're looking for something to read, maybe a new cover will jump out at you.
Love all things visual? Read this post on 5 Reasons Why You Should Keep a Sketchbook
Love your TBR pile like you love your friends
Like friends, some books are quirky, some are moody, impulsive, and some take you down (fictional) paths that keep you up all night. You picked up that book for a reason, so give yourself time to decide if you'll read it or not. If it's really not for you, it's okay to stay acquaintances or part ways. Some books, as do people, come and go from our lives. And if it's time to say goodbye, offer your collection to a nearby school if that's possible in your area. Here's a list of 20 places where you can donate books.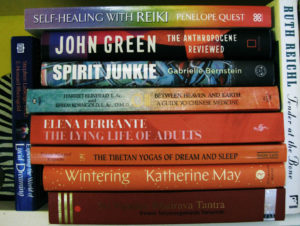 Your TBR pile helps writers
Need one more good reason not to feel guilty about your TBR pile? As a writer, I know how much time and effort goes into writing a manuscript. So, when I buy books, I am also doing it to show support for writers in what can be a difficult industry. While authors would much rather have their books read than sitting on a shelf, don't forget the possibility that timing is everything. One day, when you're ready to read that book, it'll resonate with you. Until then, it holds magic within its pages, waiting for its moment.
In conclusion, even when it feels like a TBR pile is out of control, it is still possible to love it.
Want more daily inspiration? Read One Daily Gratitude Routine of this Istanbul Designer and The Art of Finding Joy in Daily Life
Rose Margaret Deniz is co-founder of ARE Living along with Ashley and Ermis. She is an artist, writer, and yoga instructor @roselayoga. The farm-girl turned expat has been gluten-free for over 12 years, and can be found in her kitchen whipping up seasonal meals for her bilingual family, growing herbs in her garden, painting and writing in her studio, and practicing yoga.