Take a peek into a day in the life of gardener and cook Ermis Rezaei and discover how caring for plants inspires daily wellness in her life.
Welcome to ARE Living's ongoing interview series, where we get to share how you ARE living!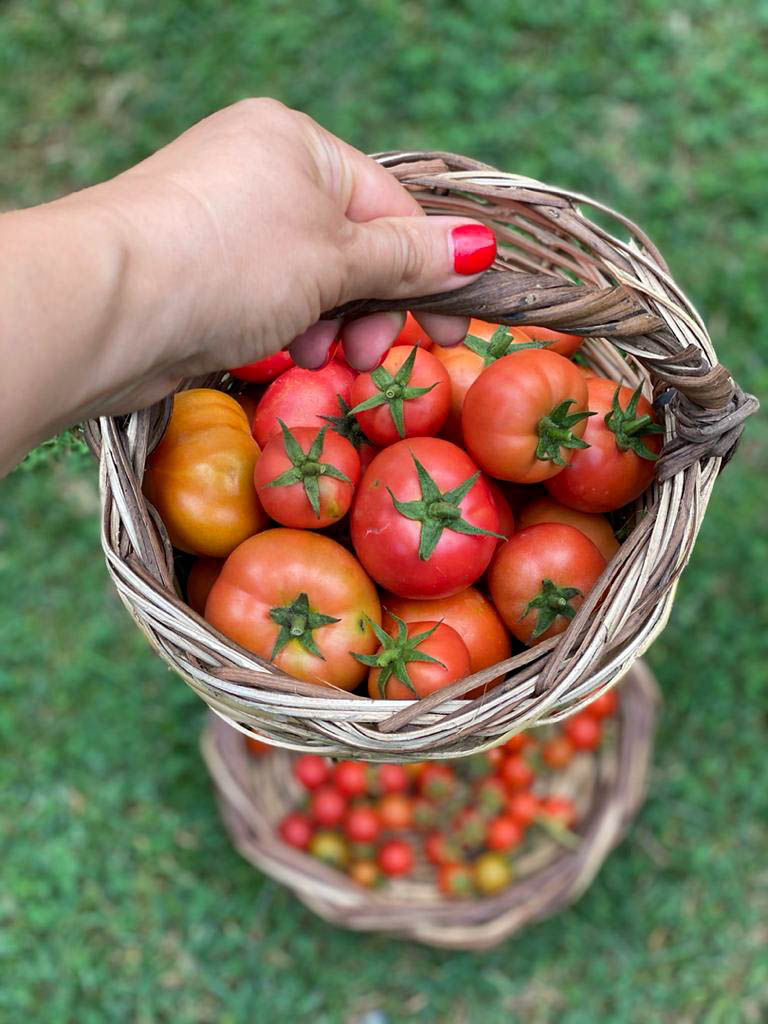 A daily routine centered on caring for plants, cooking, and art
Every day, I wake up at 7:00 a.m, feed the cats, meditate, and practice Reiki for 15 minutes. Then, I make my morning tea or coffee. Most days I read at least 10 pages of a book, write down my goals for the day, and finally head into the heart of the house — my kitchen, where I make a light breakfast while listening to my favorite playlist or a Persian audiobook.
After spending much-needed time in my kitchen, I usually transition my day with another cup of tea or coffee. While sipping, I head outside to check on my plants in the garden. After I spend some time outside, I then check on my indoor plants. I monitor their health by trimming, watering, and fertilizing if needed. I also love drawing my plants. These days I am taking a Botanical Illustration class and really loving it.
Daily life centered around caring for plants
Gardening, cooking, and drawing are my passions. Therefore, I can spend hours and hours learning new recipes, drawing, picking herbs from my garden, and growing new things. In general, I go for a walk in the evening and end my day drinking non-caffeinated tea using herbs I picked from my garden and watching a show on Netflix with my loved one.
Caring for plants is part of a healthy routine
Artful wellness means being productive in my daily routine. In fact, it doesn't matter what I produce. Generally, it could be growing plants from seed, picking greens from the garden, cooking, embroidery or drawing, or doing yoga.
Caring for plants, and other little simple things make me happy and keep me motivated in my daily life.
Wellness for body and spirit
I practice Reiki twice a day. First, when I wake up in the morning, and second, at sunset or before I go to bed. It really clears my mind, improves focus, and of course, relaxes my body and spirit.
Giving life to seeds
Although I have 70 indoor plants and plenty of herbs, greens, fruit trees and lots of avocado plants in pots and in the garden, above all, I believe I am a lifelong plant-parent in training. I love giving life to seeds. So far, I have been successful in growing avocados, lemons, and mango from seed.
Healthy habits for a day of wellness
For me, it is important to listen to my favorite music playlist in the morning. If your morning starts on a bad note, you probably won't feel well either, so my yoga and meditation playlist helps a lot to get the right vibe and set my day up for positive thoughts.
Caring for plants leads to tasty herbal tea
I love eating veggies, fruits, fish, and minimal red meat. Growing herbs like fresh turmeric or ginger, or lemon balm, and chocolate mint subsequently help me drink more tea during the day.
Savory herb stew fills a craving
Most recently I had a craving for Ghorme Sabzi, which is a Persian herb stew. It is a very popular dish in Iran, and typically, it is served with saffron rice. The main ingredients are parsley, green onion, cilantro, fenugreek leaves, and black lime. This mixture is cooked with kidney beans and turmeric-seasoned lamb or beef.
Last recipe made at home
An absolute favorite of mine that I recently made is a Persian dish called Okra Stew, using lamb or chicken, okra, tomatoes, and sour grapes.
Motivated by yoga
Exactly one year has passed since I started yoga class with my talented yoga instructor Rose Margaret Deniz. I also like walking, but I especially love yoga because it builds a strong bond between mind and body and therefore, is the best stress relief for me.
Curious about yoga? Read more: 5 Best Practices for Beginning a Yoga Routine
Hydration habits encourages wellness
In general, I love both coffee and tea, but I am more of a tea drinker. During the day, I also drink fresh ginger or turmeric and lemon water.
I AM…
Optimistic
Ermis Rezaei is a plant lover and gardener who creates an enchanting garden full of intoxicating flowers, seasonal vegetables, healing herbs, and an ever growing number of avocado trees. She is a chef of delicious Persian cuisine and has a talent for creating warm, welcoming and sacred interior spaces. To get a glimpse of her colorful world, follow her @ems_food_culture